FUND, ASSET AND WAQF
---
 The Division of Fund, Asset and Waqf (Islamic Endowment) is part of Bursar office which aims to find and generate new revenue sources to ensure UIM's financial sustainability.
This Division focuses on three areas, namely:
Fund
Since its inception in 1955, UIM has been receiving monetary contributions from various parties including the Federal Government, foreign countries, state officials, private companies and individuals. To date, the Federal Government and Majlis-Majlis Agama Islam Negeri (State Islamic Religious Councils) continue to contribute funds to the University. Currently, efforts are underway to raise funds to develop a new main campus of Universiti Islam Malaysia on a 100-acre land in Cyberjaya.
Asset
The main assets obtained by UIM since the establishment of Muslim College Malaya or Kolej Islam Malaya (KIM) are a palace in Kampung Jawa, Klang which was made the initial KIM campus and a 30-acre piece of land in Petaling Jaya with the help and support of the central government through the Ministry of Education in 1966. A few buildings were built on this land for education development in the then new campus of KIM.
In 1968, a building was built on that land and, as a result of donation from the Kingdom of Saudi Arabia, named Al-Malik Faisal Hall in commemoration of the name of His Majesty the King of former Saudi Arabia. At this time, UIM is ready to take over the main campus in Cyberjaya as a symbol of the power of Islamic civilization and education.
Waqf
UIM development was based on the waqf concept starting with waqf by the then Sultan of Selangor who donated Istana Jameah (Jameah Palace) in Kampung Jawa in 1955 to be a KIM campus which symbolized educational progress in Malaya. In line with its establishment, UIM is obliged to bolster any form of waqf contribution in furthering the mission until it becomes a university that continues to grow on Islamic endowments without depending on government or private contributions hence ensuring freedom in knowledge and intellectual development.
All waqf matters of UIM will be monitored and advised by a panel known as the 'Shariah Panel' consisting of experts who are authoritative in Shariah law. 
UIM Waqf Projects;
---
 1. UIM Waqf Fund (Tabung Wakaf Universiti Islam Malaysia-TWUIM)
| | |
| --- | --- |
| 1.1 | What is UIM Waqf Fund (TWUIM)? |
|   | UIM Waqf Fund is a trust scheme collect any donations in cash waqf one fund income (perpetual) more transparent, to be managed by the university in projects add and develop immovable assets such as real estate and buildings, as well as in investment schemes the benefit, which results or returns will be used to benefit the UIM. |
|  1.2 | TWUIM was launched on April 7, 2016 by YBhg. Tan Sri Prof. Dr Mohd Yusof Noor, President of the UIM. Currently UIM has received an endowment from the staff,  |
|   | management officials, academicians and the general public through salary deduction scheme and cash. |
| 1.3 | How do I donate Endowment Fund to UIM? |

| | | |
| --- | --- | --- |
|   |  i. | UIM Endowment Fund is a scheme operated by the Islamic University of Malaysia, the only institution Islam-based higher education endownments and  |
|   |   | endowment in Malaysia beginning 1955. |
|   | ii. | As a member of the management, lecturers, researchers, fellows, members of non-academic, alumni and graduates in the UIM, we need to show confidence |
|   |   | and love of the UIM to start the culture of self-religious endowment. |
|   | iii. | Endowments cash and property (movable and immovable) is a charitable deeds (endowments) were encouraged. Reward offered lasting as long as we used |
|   |   | donated by people, no matter what the amount. |
|   |  iv. | It is appropriate for those who have more wealth and opportunities to serve through donations endowment / endowment to the UIM that was established by |
|   |   | the Conference of Rulers. |
| | |
| --- | --- |
| 1.4 | Benefits endowment to UIM |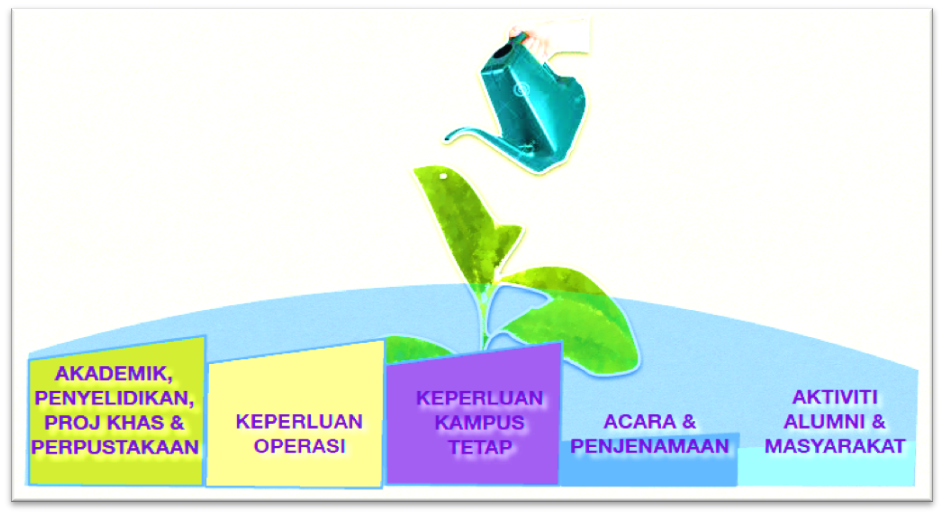 General Distribution Formula
---
 2. 'QAF' (Endowment) Apps
    QAF Apps is an easy platform for endowment by the public. It's available for participating organizational as Council Islamic Religious State (MAIN), Public University (IPTA) and NGOs       which have endowment schemes.
    To participate in QAF Apps, please contact Mr. Mohd Zul Fadlain Abdullah in direct line 03-8324 6624.